The greatest attractions and things to do in Cardiff are listed here.
Cardiff, the stunning capital of Wales, is the ideal starting point for traveling around this amazing nation. Cardiff (Caerdydd), which is just a short drive across the River Severn from Bristol in England, is home to some of the top tourist destinations and landmarks in the nation. The magnificent Cardiff Castle, which is regarded as one of the best preserved and most beautiful of the many dozens of castles still to be found in Wales, serves as testament to the city's long-standing historical significance.
There are other parts of the city where you can appreciate this rich heritage. It is a quick and quite delightful stroll from the castle to Cardiff Bay, one of the biggest port redevelopment projects in all of Europe, through the city's Victorian-era arcades. Here, you can discover more about the port's significant contribution to the history of Wales and the United Kingdom as a whole, explore the historic wharves and warehouses, and perhaps go dining or shopping.
Cardiff is a wonderful starting point for visiting other significant Welsh attractions. The magnificent Brecon Beacons is one of the best (and closest), and although it is a little farther north, the breathtaking Snowdonia National Park is also well worth a visit.
1. Take a Tour of Cardiff Castle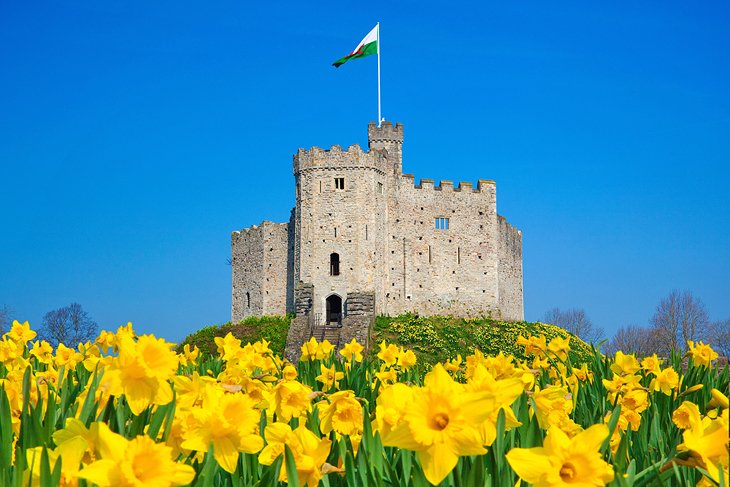 One of Wales' most popular tourist destinations is Cardiff Castle, which was constructed on a roughly 2,000-year-old Roman fortification. With some of the oldest portions reaching back as far as the 10th century, it's also one of the many romantic—and best preserved—historical castles in the nation.
The State Apartments are among the most remarkable characteristics that contribute to its allure as a destination. Each chamber is jam-packed with interesting exhibits and helpful information about the individuals who previously called this place home and workplace, as well as significant moments in the castle's history. The charming chapel, the clock tower, and the elegant banqueting hall—famous for its impressive murals and rich artwork as well as its enormous and elaborately decorated fireplace—are all additional highlights.
Consider taking a guided tour if you're short on time and want to be sure you can see the most impressive parts of this magnificent historic site.
Address: Castle Street, Cardiff, Wales
2. Explore the City's Victorian Arcades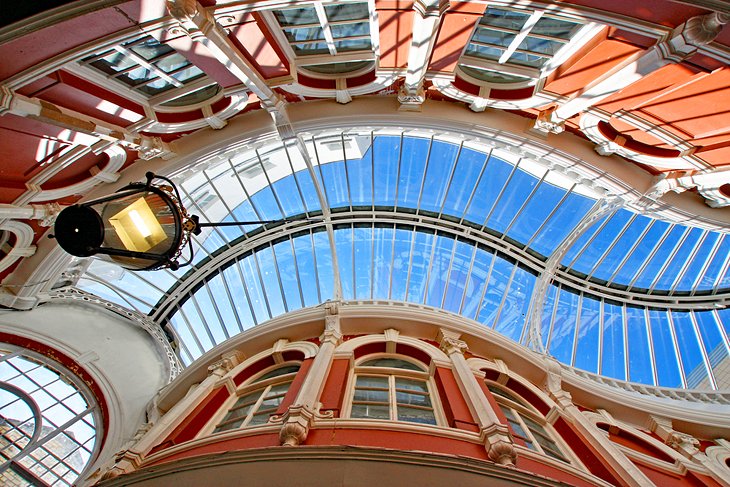 Be sure to visit Cardiff's well-preserved and active Victorian shopping arcades after admiring its spectacular castle. These intriguing, historic covered pedestrian thoroughfares that cut through the city's core were constructed to let locals and guests shop indoors without worrying about the elements or the state of the city's roadways and walkways.
The oldest of them, the Royal Arcade, constructed in 1858, is a good spot to start your exploration of the more than 2,600 feet of arcades to explore. Though the things sold may have changed over the years, many of the original storefronts still stand today. Today, you have an almost endless selection of Welsh crafts and woolen goods to choose from.
If your timetable for visiting Cardiff permits, be sure to visit one or two more arcades. Favorites include the Castle Arcade, which connects the city center to the castle and is well worth a visit for its art galleries, shops, and cafes, as well as the High Street Arcade, which was erected in 1886 and well known as a location to buy for clothing. Another famous retail district worth visiting is the Cardiff Market, which has been offering fresh products from nearby farmers since the 1890s.
3. Visit Cardiff Bay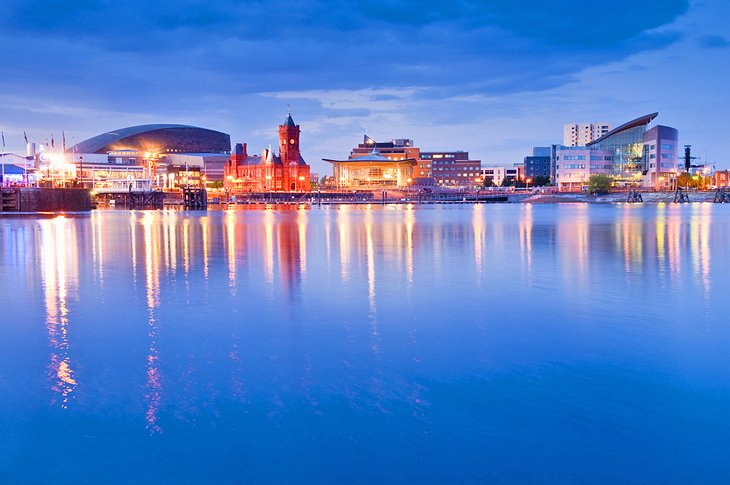 Cardiff Bay is so huge that it might easily take the better part of a day to tour it thoroughly. It is located on over 2,700 acres of beachfront land. The Cardiff Bay redevelopment, one of the largest in Europe, is home to a ton of entertaining activities, especially if you're traveling with kids. It essentially encompasses the entire former dockyards.
Family-friendly sites like Techniquest, an interactive science museum, are highlights for visitors. Parents can also amuse their children with educational shows in the facility's top-notch planetarium in addition to the abundance of hands-on fun and educational activities.
Children who enjoy reading books like Charlie and the Chocolate Factory and The Big Friendly Giant should also visit the historic Norwegian Church, where Roald Dahl, the author of these well-known stories, once attended services. Roald Dahl Plass, a public square, is even named in his honor. The Senedd, one of Cardiff Bay's newest buildings that houses the nation's government offices, is also noteworthy in this area.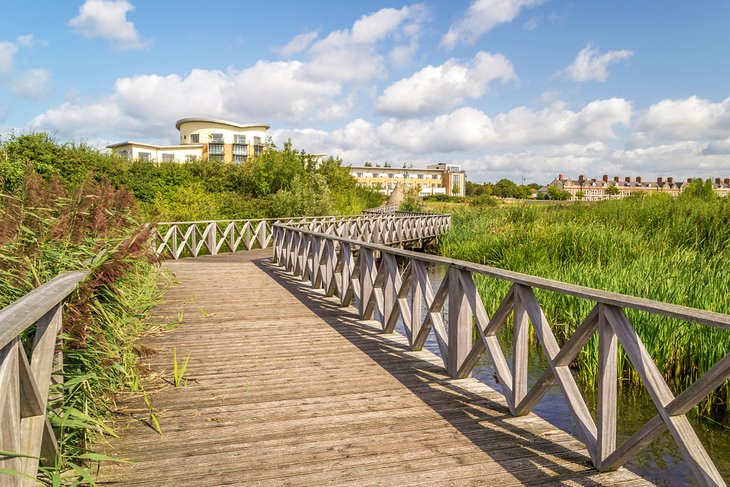 You won't be dissatisfied if you enjoy walking. Here, there are numerous parks and walking trails, some of which pass through wetlands preserves with a variety of wildlife to be seen. You might spend hours exploring these areas.
The ancient abandoned warehouses and wharves are now home to opulent residences, hotels, and some of Cardiff's greatest restaurants. Along with its theaters, this area is home to the Wales Millennium Centre performance arts venue, numerous art studios and galleries, as well as top-notch shopping. For more information on this top Cardiff attraction, see below.
Address: Queen Alexandra House, Cargo Road, Cardiff Bay, Cardiff, Wales
4. Wales Millennium Centre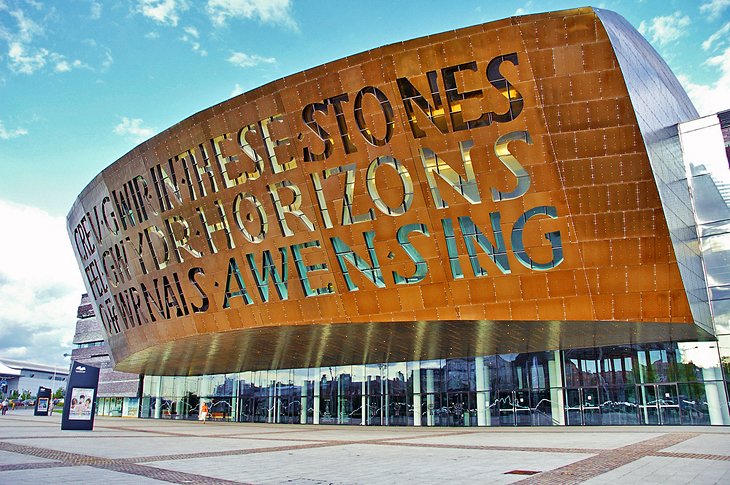 Try to see a show at the ultra-modern Wales Millennium Centre if you're interested in the arts and culture. This expansive five-acre theater, a pioneer in activities as varied as classical music and opera, ballet, and modern dance, as well as literary gatherings and musical performances, has been hailed as one of the finest performing arts institutions on the planet. This is the location if you're seeking for nightlife in Cardiff.
Though it is situated in Cardiff Bay, even if you are unable to attend a show or performance, you should still stop by to check out the grounds and other entertaining activities. Along with dining and shopping experiences, related activities also include educational events, lectures, and workshops. Additionally, the facility provides a number of educational guided tours and behind-the-scenes activities.
Address: Bute Place, Cardiff Bay, Wales
5. Learn about Welsh History at the National Museum Cardiff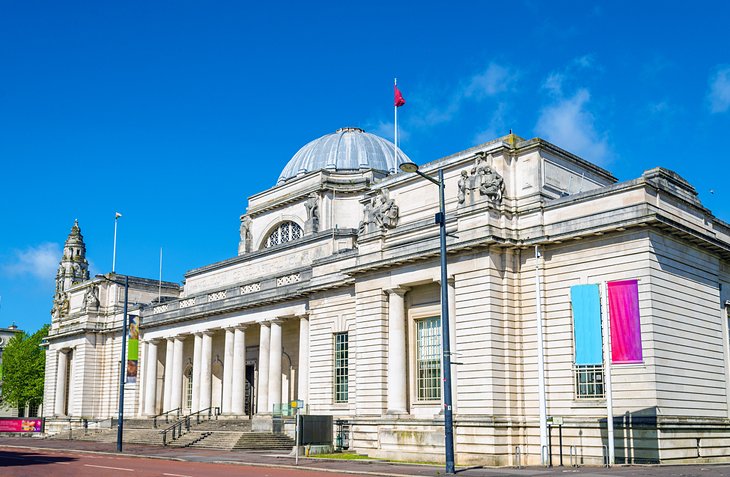 The Civic Center building in the city serves as home to the National Museum Cardiff. In an archaeology museum, the numerous exhibits of weapons from the Bronze Age stand out. The substantial art gallery, which features significant pieces by Picasso and Monet, will be of interest to art enthusiasts.
Address: Cathays Park, Cardiff, Wales
6. Enjoy a Game of Rugby at Principality Stadium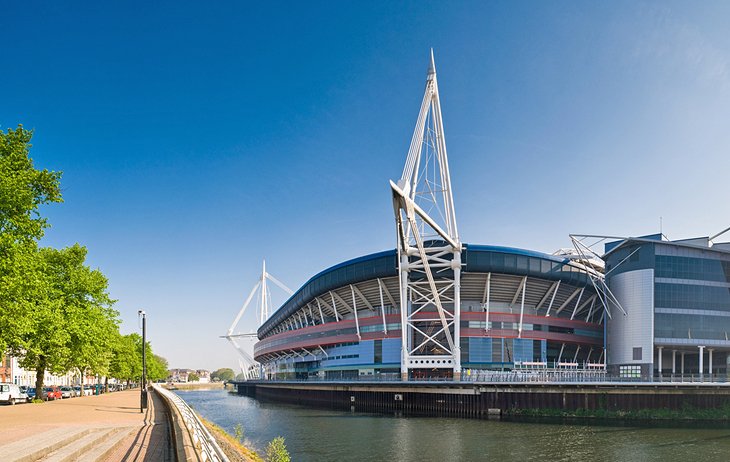 Wales' rugby squad plays its home matches at Cardiff Arms Park's Principality Stadium. The location frequently hosts significant music concerts when it is not hosting rugby matches. Behind-the-scenes access to the VIP and press areas of the stadium is available through organized tours.
Address: Westgate Street, Cardiff, Wales
7. Get Outdoors in Roath Park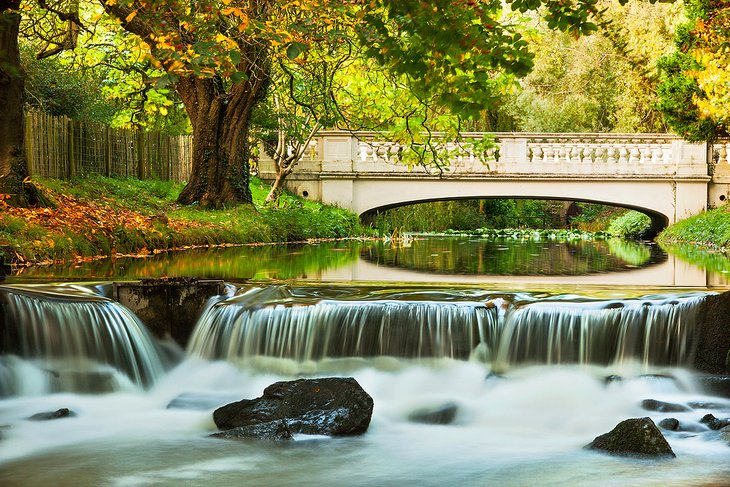 One of the first parks open to the public in Cardiff was Roath Park, which was founded in 1894. Highlights include the attractive "Wild Garden" and magnificent 30-acre lake. Tennis, basketball, lawn bowls, and a children's adventure playground are just a few of the sports that are offered.
Address: Lake Rd West, Cardiff, Wales
8. See Llandaff Cathedral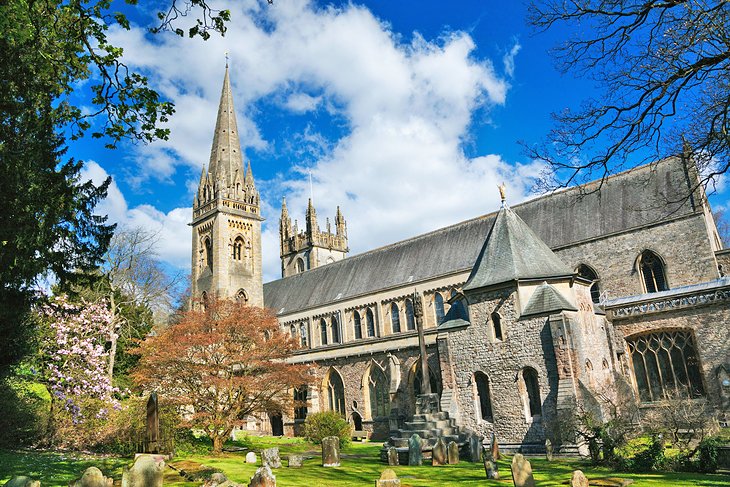 On the ruins of an earlier cathedral, Cardiff's Llandaff Cathedral was constructed in the 1300s. The impressive 15th-century tower and the completely restored Italian Temple are two exterior highlights. A tour of the interior will expose you to priceless religious artifacts and sculptures.
Address: Cathedral Road, Cardiff, Wales
9. St. Fagans National Museum of History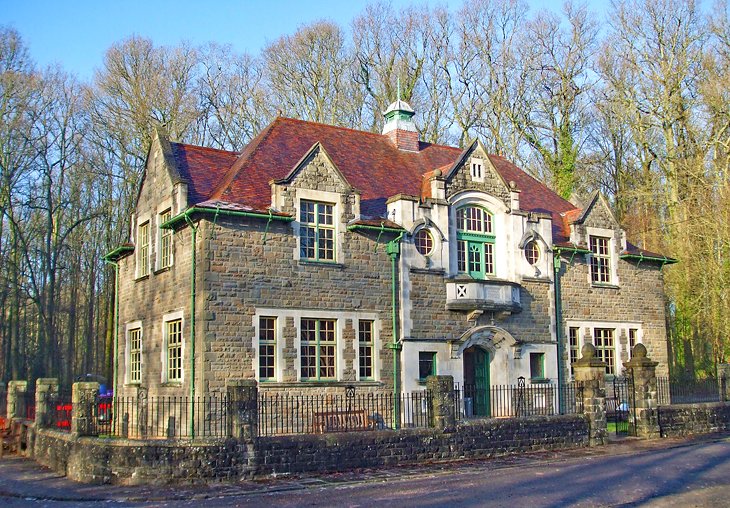 A wonderful outdoor site is the St. Fagans National Museum of History. Characters in costumes exhibit the traditional trades and abilities that shaped Wales. Discover a range of authentic and replica structures, such as charming farmhouses and cottages. Spring, summer, and Christmastime are all ideal times to visit.
Location: Cathays Park, Cardiff, Wales
10. Caerphilly Castle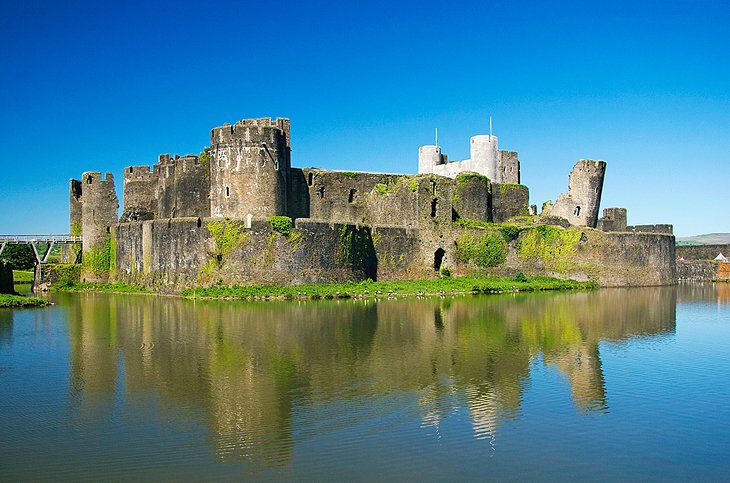 Wales' largest castle, Caerphilly Castle, was constructed in 1628. a piece of the network of castles the English constructed to maintain control over the highly desired Welsh landscape. The intimidating purpose of the castle is depicted in imposing fashion by two enormous drawbridges.
Address: Castle Street, Caerphilly, Wales
11. The Red Castle: Castell Coch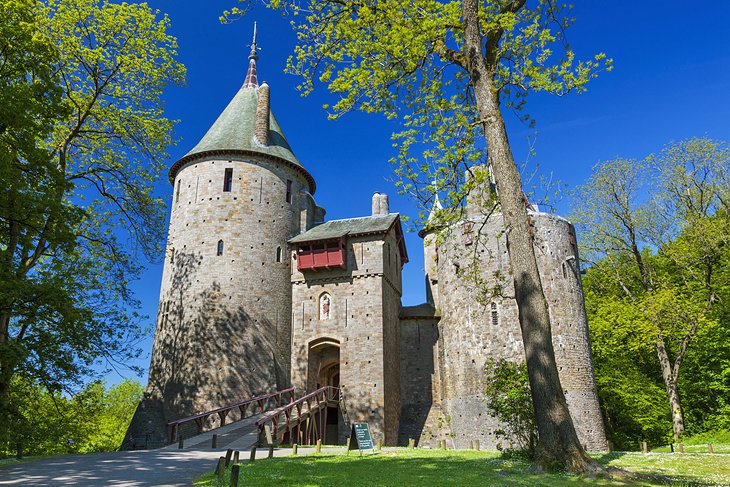 The Red Castle, sometimes referred to as Castell Coch, is only 200 years old. It is amazing how much attention to detail was paid both inside and out. Decorative flourishes include carvings of animals and religious figures, some of which are, you guessed it, characters from well-known fairy tales.
Address: Tongwynlais, Cardiff, Wales
12. Cardiff International White Water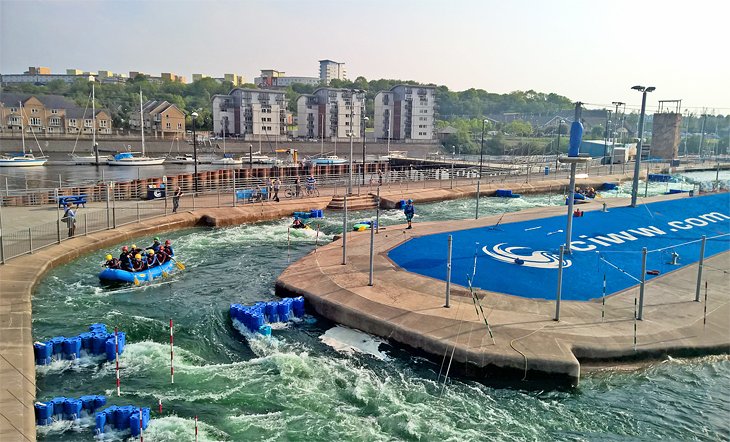 The 250-meter course of International White Water, a man-made white water setting, can be changed to suit the experience. Surfing, canyoning, and bodyboarding are some more extreme sports that are enjoyable here.
Address: Watkiss Way, Cardiff, Wales
13. Cardiff City Hall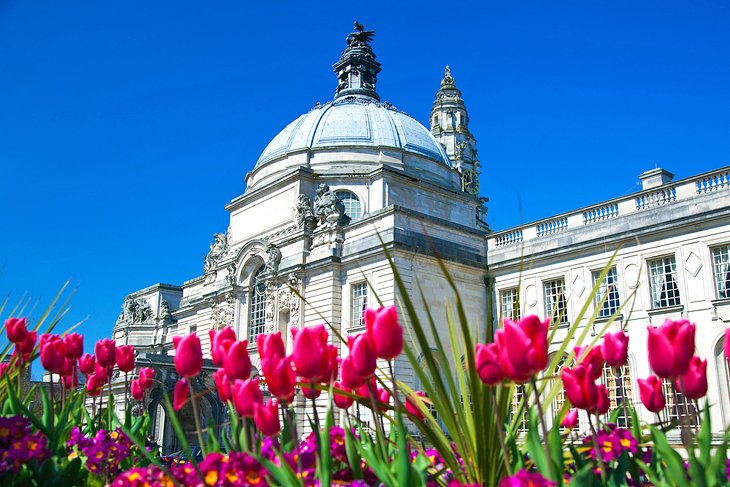 Cardiff City Hall was built in 1906 and is frequently used for gatherings and events. The building's art collection and the previous council chambers are both interesting to see. The Assembly Room, where local dignitaries would mingle with visiting royalty, is also noteworthy.
Address: Cathays Park, Cardiff, Wales
14. The Museum of Cardiff
Another good place to visit if you want to understand more about the lengthy and fascinating history of this still-significant city is the superb Museum of Cardiff (commonly known as the "Cardiff Story Museum"). Visitors are guided through the centuries, from the city's modest beginnings as a market and agricultural center to its rise to become one of the UK's most important (and largest) ports, using educational displays and authentic artifacts dating from various periods.
Each year, the museum also hosts a number of fascinating temporary exhibits, fun educational workshops, and events in addition to its permanent exhibits. This attraction offers free admission as well.
Address: The Old Library, The Hayes, Cardiff, Wales
Where to Stay in Cardiff for Sightseeing
We've compiled a list of the top hotels in great locations close to some of Cardiff's top attractions that we think you should stay at.
Luxury Hotels:
Voco St. David's Cardiff offers a magnificent stay with stunning views through the tall floor-to-ceiling windows in each of its rooms. The hotel is situated on the city's waterfront overlooking Cardiff Bay. Exceptional spa facilities with whirlpool tubs and a heated pool are among the on-site attractions.
The exquisite Park Plaza Hotel Cardiff is a popular luxury option because of its roomy suites, a top-notch spa, and a fine-dining restaurant, all of which are close to Cardiff Castle (be sure to try the afternoon tea).
The Hilton Cardiff, which is adjacent to the castle and the city's best retail districts and has stylish rooms, separate bathrooms with walk-in showers, a restaurant, and a spa, is another option to take into account in this category.
Mid-Range Hotels:
The Premier Inn Cardiff City Centre Hotel is a fantastic option for a mid-range hotel. The hotel is in a beautiful location, close to Cardiff Castle, and offers reasonable pricing and comfortable mattresses.
Other contenders in this category include the Radisson Blu Hotel, Cardiff, which is a smart choice for its convenient proximity to the city's main train station and stylish amenities, and the Clayton Hotel Cardiff, which is well-liked for its contemporary décor and features like a gym.
Budget Hotels:
The Travelodge Cardiff Atlantic Wharf is a fantastic choice for individuals on a limited budget. The hotel offers reasonable pricing, great value, and cozy rooms with modern decor in addition to being close to the Wales Millennium Centre.
Both the Sleeperz Hotel Cardiff and the Future Inn Cardiff Hotel are excellent choices thanks to their convenient locations near the city's top shopping districts and the train station and stadium, respectively.
Tips and Tours: How to Make the Most of Your Visit to Cardiff
Cardiff is a fantastic city to explore for a day or longer. A City Sightseeing Cardiff Hop-On Hop-Off Tour is one of the greatest ways to make the most of your stay here. The city also has many beautiful parks that are worth visiting.
Editor's choice:
Best Tourist Attractions In Liverpool 14 Attractions
" Best Attractions And Things To Do In Nottingham " 16 Attractions And Things