There are so many things to do in Alesund that you won't know where to start, it's well worth a visit.
Alesund is a prominent tourist destination in Norway because of its exquisitely preserved Art Nouveau architecture. It not only boasts one of those idyllic Norwegian landscapes, with fjords and the tall peaks of the Sunnmore Alps around it, but it has also profited from the construction of numerous new cultural and recreational facilities.
This mix of natural beauty and a rich cultural legacy, which are byproducts of the country's amazing development in wealth in recent years, unquestionably make Alesund one of the greatest places to visit in Norway for a genuine and unforgettable Scandinavian holiday. Alesund, which spans the islands of Norvoy and Aspoy, is Norway's most significant fishing seaport and an excellent starting point for boat trips, fjord cruises, and fishing expeditions.
800 of the town's original timber homes were destroyed in a large fire in 1904, leaving Alesund with its stunning architectural legacy. The nation's greatest master builders and architects were tasked with rebuilding the city in stone, brick, and plaster because local officials were determined that it wouldn't happen again. This foresight resulted in the construction of more than 320 Art Nouveau structures in a small concentrated location, resulting in the most comprehensive Art Nouveau cityscape in Europe.
Using our directory of the main sights and activities in Lesund, Norway, you can organize your sightseeing excursions there.
1. Explore Art Nouveau Alesund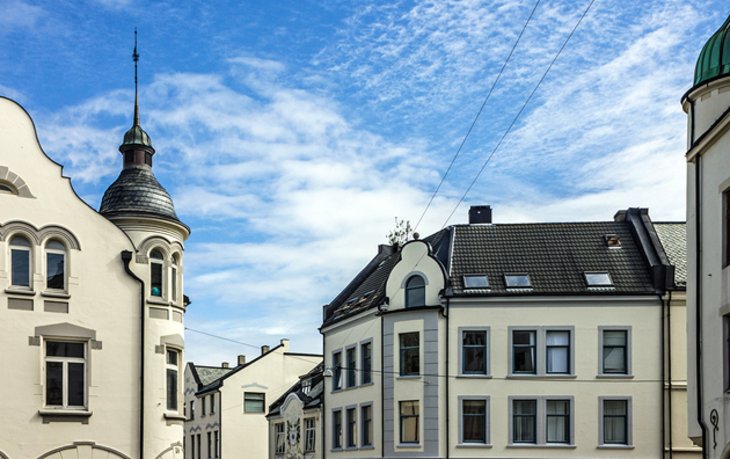 It is necessary to walk through Alesund's Art Nouveau district. The first structure in Alesund to be listed was the town's pharmacy, which is now a visitor center. It's also worthwhile to stop by the nearby KUBE art museum, which has a lot of noteworthy exhibits.
Address: Apotekergata 16, 6004 Alesund, Norway
2. Watch the Boats Come and Go at Alesund Harbor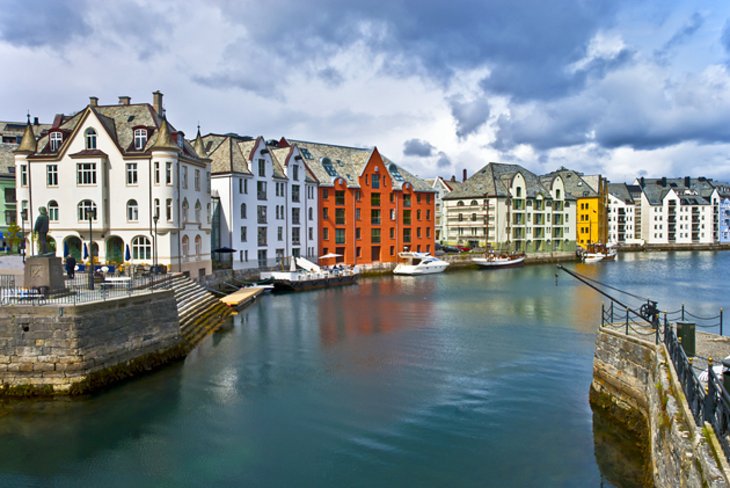 The harbor of Alesund is protected by the Skansen peninsula and is situated between the islands of Norvoy and Aspoy. You may be tempted to stay for a long and just observe the boat traffic in this busy port area, notwithstanding how lovely it is to roam around and see the architecture—the attractive harbor has many older buildings originally utilized by fisherman.
One of Europe's largest fishing fleets is based at the harbor, which also serves as a stop on the Hurtigruten route, a quick coastal service that connects all of Norway. Additionally, cruise ships have started to favor it as a destination.
Address: Skateflukaia, N-6002 Alesund, Norway
3. Take a Walk around Alesund's Town Park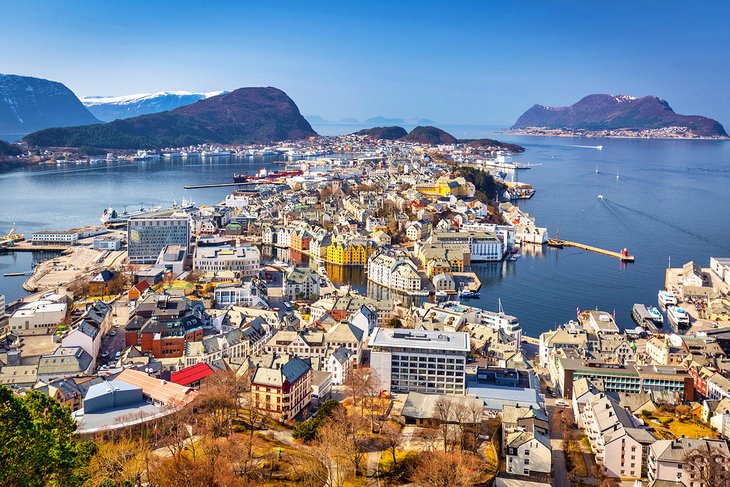 Once you've had your fill of exploring Alesund's magnificent architecture, climb Mount Aksla's 418 steps for an outstanding panoramic perspective of the city below. One of the best free things to do in Alesund day or night, it is an especially amazing sight. The stairs and grounds, which are a part of the lovely Alesund Town Park, were designed in 1885 by a local gardener who drew inspiration from the terrain of the region.
Two sculptures of figures associated with Alesund are also located in the park, which was founded in 1885. One of them honors Germany's support following the terrible fire of 1904 and features Kaiser Wilhelm II, a frequent visitor to Norway. The second depicts Gange-Rolf, a local hero associated with William the Conqueror who was given to the town by Rouen in 1911.
Address: Town Park, 6002 Alesund, Norway
4. Take the Kids to Atlantic Sea-Park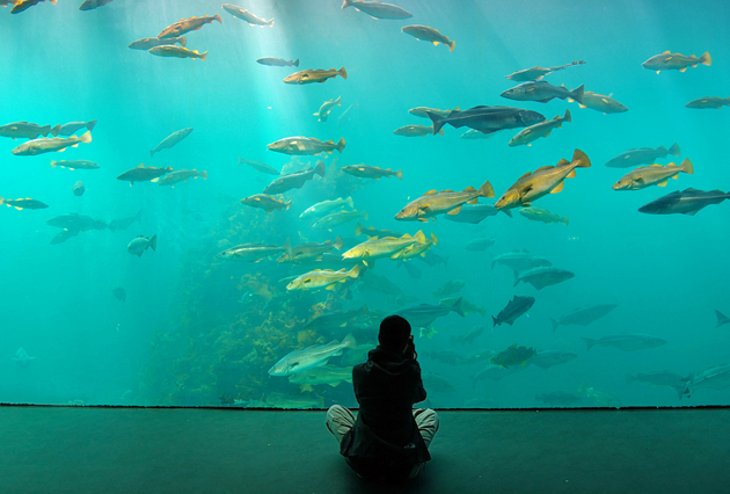 Discover the unique marine life of Norway at Alesund's Atlantic Sea-Park (Atlanterhavsparken). A short shuttle bus ride from the town center, this exciting family attraction offers a fascinating glimpse at life under the sea and is one of the biggest saltwater aquariums in northern Europe.
This magnificent family attraction, nestled into the shoreline and established in 1951, is crisscrossed with a variety of scenic walking pathways that provide multiple excellent views of its fishy inhabitants. The facility's exhibition area consists of 11 sizable aquariums in total, in addition to open touch pools and activity pools. If at all possible, attempt to arrange your visit to coincide with the daily fish feeding in the Great Atlantic tank's million-gallon aquarium.
Take part in the excitement of the weekly public fish feeding event if you're traveling with kids. Selbukta, the world's largest seal tank at four million gallons, is another notable feature. On-site amenities include a gift shop and a cafe.
There is a wide range of educational programming geared for children, including interactive activities and day trips to actual areas to observe marine life in its native habitat.
Address: Tueneset, 6006 Alesund, Norway
5. Take a Fjord Cruise in Hjorundfjord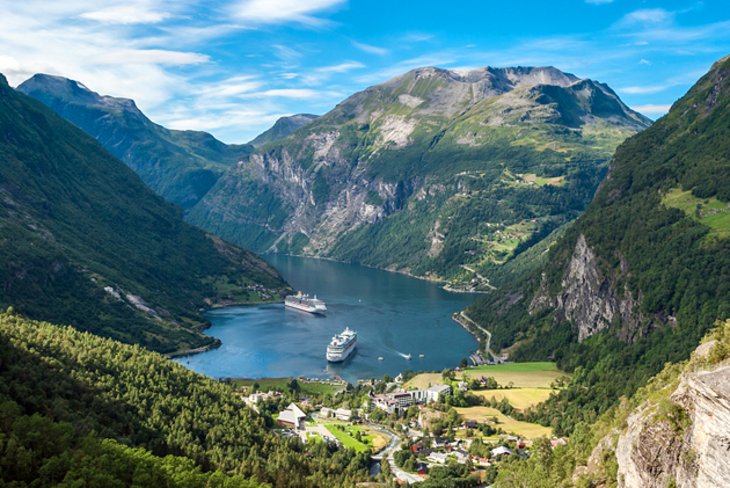 The beautiful Sunnmore Alps mountain range, which stretches 32 kilometers south of Alesund, surrounds the Hjorundfjord and occasionally soars suddenly out of the fjord to heights of 1,706 meters. The greatest way to experience the stunning scenery of this thickly forested fjord is on the water, whether you're sailing or paddling a kayak for pleasure. And if you can, take a picture of you and your traveling companions enjoying the Hjorundfjord swing, a simple wooden structure that just so happens to offer the most breathtaking views of the fjord.
There are several enjoyable cruise alternatives that make stops at locations like Hotel Union Oye, a beautifully restored hotel in the tiny village of Oye. The 27-room hotel, a favorite among Europe's elite since 1891, has recently undergone a comprehensive restoration and is a perfect setting for a supper or a starting point for visiting sights like the Sunnmore Museum in Borgundgavlen, an outdoor collection of old homes and structures.
In addition to being well-liked by hikers, Hjorundfjord has some fantastic camping spots close to the water.
Address: Borgundgavlen, 6015 Alesund, Norway
6. Explore the Sunnmore Museum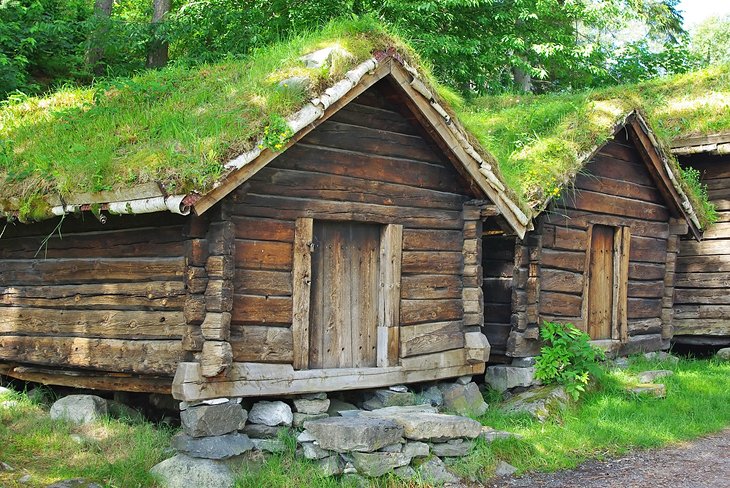 Spending time exploring the many fascinating museums strewn around the local area is one of the top things to do when visiting Alesund and is unquestionably the finest way to learn more about this gorgeous region of Norway. The wonderful Sunnmore Museum, an open-air museum with a collection of 55 ancient Norwegian structures not far from the center of Alesund, comes in first place on the list.
A variety of boats, including Viking ship models, as well as authentic objects pertaining to the area's cultural and social past are also on display in the museum.
Address: Museumsvegen 1, 6015 Alesund, Norway
7. Visit Runde, the Bird Island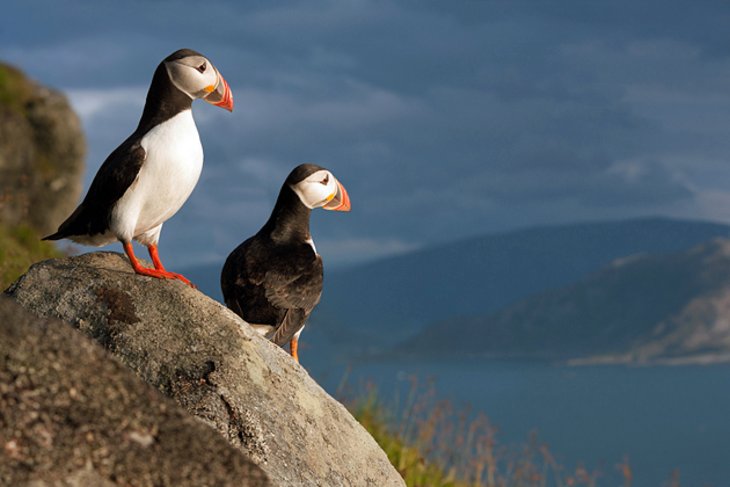 The most southerly seabird cliff in Norway is located on the island of Runde, not far southwest of Alesund. This unique location, also referred to as Bird Island, is the nesting ground for about 500,000 birds. The puffins, the island's most well-known residents, are one of the 220 different bird species that call this little island home. These puffins are driven to the island each year by the large number of fish that spawn there.
Additionally, the island runs a fascinating Environmental Center with displays about the local bird life and numerous historic shipwrecks in the region. Joining an organized tour of the island is one of the greatest things to do; alternatives include fast boats or slower, more leisurely tours conducted by knowledgeable guides that give plenty of opportunity for bird-watching. With numerous clearly designated paths that are open all year long, Runde is also a well-liked hiking destination.
Address: Runde Miljosenter, 6096 Runde, Norway
8. Take a Side Trip to Godoy Island and the Alnes Lighthouse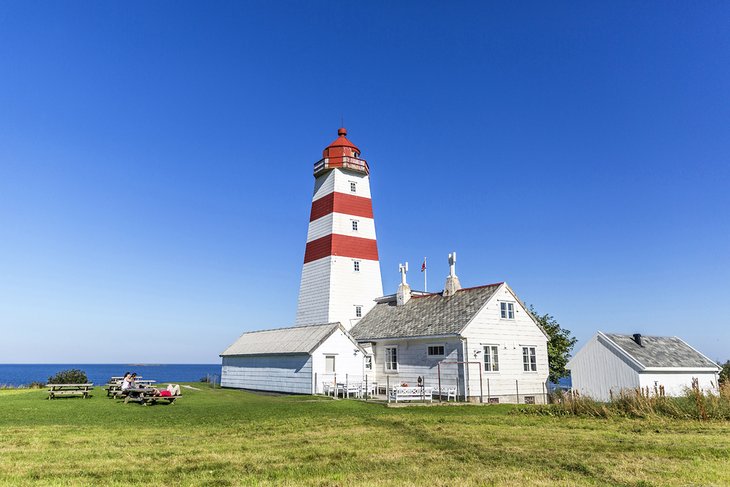 Only a 30-minute drive separates Alesund and the popular excursion destination of the island of Godoy. Both the historic lighthouse and the picturesque location's 497-meter mountain, Storhornet, are well-known. Visit the Alnes Lighthouse (Alnes Fyr), which is close to the small fishing village from which it derives, since it is one of the best things to do here (Alnes fyr og opplevelsessenter).
From May through October, visitors can visit the 1876 lighthouse's galley and tower. The ancient keeper's home also features a museum, a cafe, and an exhibition hall with works of art by regional artists. Visit the Godoy Coastal Museum, which features Viking-era exhibits and archaeological exhibitions, while you're on the island.
Address: Alnesgard, 6055 Godoya, Norway
9. The Fisheries Museum & Alesund Museum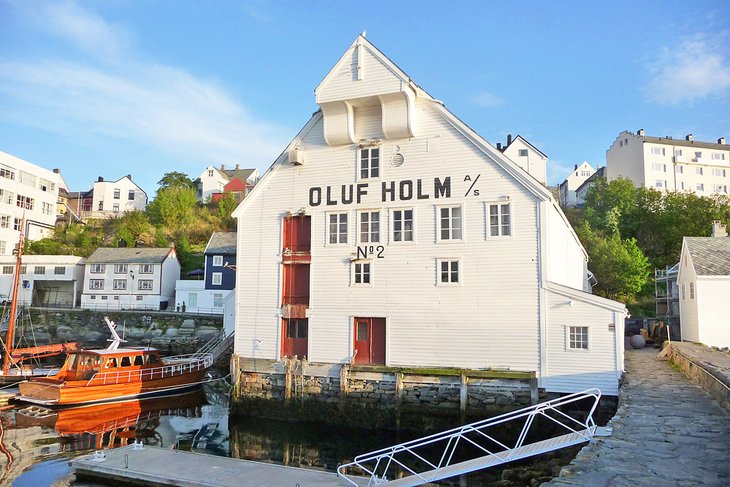 The Fisheries Museum is noteworthy for its informative exhibits about the influence and importance of fishing, the history of fish processing, as well as a number of original fishing vessels that may be inspected. It is also well worth a visit when touring Alesund. There is also a wonderful exhibit on how cod liver oil is made, and you can buy some of this traditional Norwegian food.
The Alesund Museum, which is also worthwhile to see, covers the town's past as a fishing harbor as well as the 1904 fire and the German occupation during World War 2.
The Nature Museum in adjacent Sykkylven, which is well-known for its exhibits about native animal and plant species, as well as the intriguing Furniture Museum, which honors the area's rich history and traditions of furniture making, are two more notable local museums.
Addreess: Molovegen 10, 6004 Alesund, Norway
10. The Ivar Aasen Center
The famed poet, writer, and philosopher Ivar Aasen was born on a farm in 1813, and today that farm is home to the Ivar Aasen Center (Ivar Aasen-tunet). Asen's house serves as the nation's national Nynorsk documentation and experience center. Aasen is revered for creating Nynorsk, a language based on Norwegian dialects.
The Sverre Fehn-designed structure is a tourist destination in and of itself and serves as the venue for the New Norwegian Literature, Art, and Music Festival, which is held annually in the last week of June. The location has a wonderful cafe and a gift shop. There are guided tours offered in English.
Address: Indrehovdevegen 176, 6160 Hovdebygda, Norway
Where to Stay in Alesund for Sightseeing
Luxury Hotels:
The family-run, 4-star Hotel Brosundet offers a great, luxurious stay in a charming, old building with water views, original beams, and quite spacious rooms.
Mid-Range Hotels:
The Scandic Parken hotel offers affordable mid-priced accommodations in a spacious structure with contemporary decor, as well as a fantastic complimentary breakfast and extras like a fitness center and sauna.
The Quality Hotel Waterfront Alesund, well-known for its modern style, sea views, fantastic breakfast (included with your stay), and welcoming staff, is also worth a look.
Another excellent option is the Scandic Alesund, which offers stunning water views, comfortable beds in a variety of rooms and suites, and a fantastic free breakfast.
Budget Hotels:
The Ytterland Apartments, known for its tranquil environment and selection of one- or two-bedroom suites with kitchens, are a respected low-cost lodging option.
Norhostel Apartment, which offers reasonably priced rooms and apartment-style accommodations, is another economical choice to take into account.
Tips and Tours: How to Make the Most of Your Visit to Alesund
Sea Kayaking Adventures:Make reservations for a sea kayaking and hiking vacation from Alesund for a really unique experience in Norway. This comprehensive tour includes a knowledgeable tour guide and departs from Alesund in the morning or the afternoon. The adventure begins with a stunning kayak crossing of Aspevagen to the lovely island of Hessa. From here, it is a short climb to Mount Sukkertoppen, which is renowned for its stunning views of LeSund and the Sunnmore alps. Your tour package comes with all necessary gear and an engaging running commentary from your guide.
Shore Thing:The Alesund Ultimate Sightseeing Tour, a fantastic option for those looking for a top-notch shore excursion, features the best natural and cultural landmarks in and around this well-liked cruise port. This enjoyable adventure, which takes place on the gorgeous island of Giske and lasts for 4.5 hours, pickup and drop-off included, allows you to see Norway's most well-known lighthouse, Alnes Lighthouse. The tour also includes a stop in the nearby town of Godoy, which is home to the wonderful Sunnmore Museum and its impressive collection of real medieval Norwegian structures and boats, including a Viking ship model. Additionally noteworthy are visits to Mount Aksla and Alesund's renowned Art Nouveau buildings.
Related:
15 Top-Rated Tourist Attractions In Stavanger And Best Places In Stavanger