If you visit Uppsala, You have number of Things to Do in Uppsala. Let's see what are them.
Uppsala is a charming medieval university city located 70 kilometers northwest of Stockholm and about 25 minutes from Arlanda Airport. Uppsala has a laid-back vibe that comes with a big and diversified student population, which is combined with an air of academics.
There are bicycles everywhere, and the numerous streams and parks add to the general peacefulness. It's easy to forget you're in Sweden's 4th largest city, especially while meandering through the Old Town's winding lanes. Many of Uppsala's must-see tourist sites may be found here, as well as lovely boutiques, cafés, and restaurants.
Uppsala, with its splendid 13th-century cathedral, claims city status while maintaining a townlike atmosphere. The city is neatly bisected by the river Fyris (Fyrisn), which may be explored on a delightful trip (dinner cruise options are available). To the west of the river is the ancient old town, while to the east is the commercial contemporary town. If you get lost, just keep an eye out for the cathedral, which can be seen from practically everywhere.
Uppsala was formerly the seat of the Swedish rulers, and 16th-century king Gustav Vasa, as well as 18th-century naturalist Carl Linnaeus, are buried in the cathedral. Uppsala has a rich history reaching back to Viking times, as well as a strong educational spirit. Read our list of the best tourist attractions and entertaining things to do in Uppsala to learn more about this bustling city.
1. Uppsala Cathedral (Domkyrka)
(Things to Do in Uppsala 01)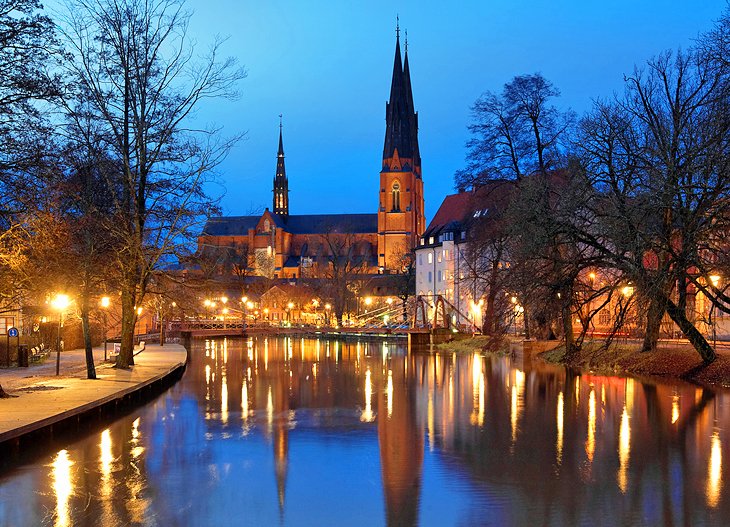 The beautiful Uppsala Cathedral (Uppsala domkyrka), built in 1270 and dedicated in 1435, is the city's most recognizable feature. It has undergone several transformations throughout the ages, including a massive neo-Gothic refurbishment between 1885 and 1893. The twin tall-pointed spires, stained-glass windows, and stunning paintings were added during this comprehensive refurbishment.
Burchard Precht carved the opulent Baroque pulpit to Nicodemus Tessin the Younger's design in 1707.
The burial chapel and tomb of King Gustavus Adolphus, which date from 1576, are located at the east end of the choir. Carl von Linné (Linnaeus), Archbishop Nathan Söderblom, as well as the philosopher Emanuel Swedenborg are all buried in the church.
The golden reliquary of King Eric IX (St. Eric), who was murdered by the Danes in 1160, is among the treasures in the Silver Chamber. The collection in the north tower is topped by a gold brocade gown (c. 1400) that belonged to Queen Margaret, ruler of the unified kingdoms of Denmark, Norway, and Sweden.
Mass or one of the monthly choral performances or organ recitals conducted here are fantastic ways to soak in the rich historic ambiance. On-site amenities include a café and a store.
Address: Domkyrkoplan, 753 10 Uppsala
Official site: www.svenskakyrkan.se/uppsala/welcome-to-uppsala-cathedral
2. Go to the Gustavianum Museum at Uppsala University
(Things to Do in Uppsala 02)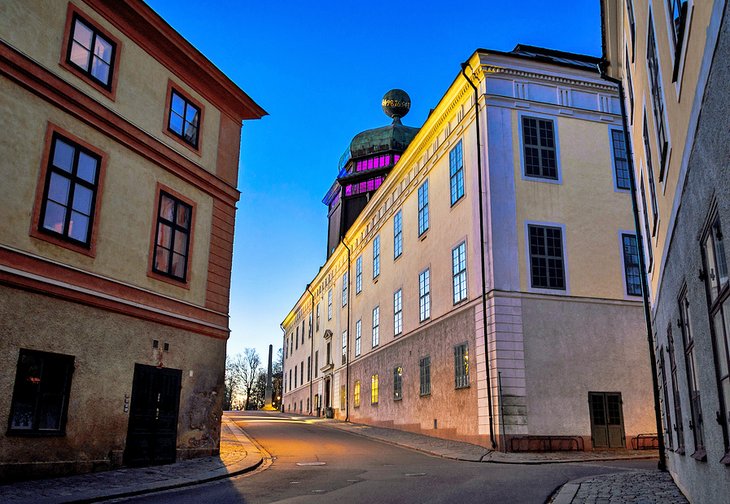 The Gustavianum – Uppsala University Museum, which was founded in 1620 by Gustavus Adolphus and is located opposite the city's cathedral, is the former main building of Uppsala University. It houses the university's cultural history collections, as well as artifacts from Scandinavia and Egypt. The Anatomical Theatre, erected on the roof in the 1660s, is also located here.
Viking treasures such as rare jewelry, medals, and swords, as well as the history of Uppsala University as well as a number of Egyptian mummies, are on display in the permanent exhibition. The museum's offerings are completed by temporary displays. The University Art Collection, housed in the main building, is well worth seeing.
Address: Akademigatan 3, 753 10 Uppsala
Official site: https://www.uu.se/en
3. Take a tour of Uppsala University's historic buildings (Uppsala universitet)
(Things to Do in Uppsala 03)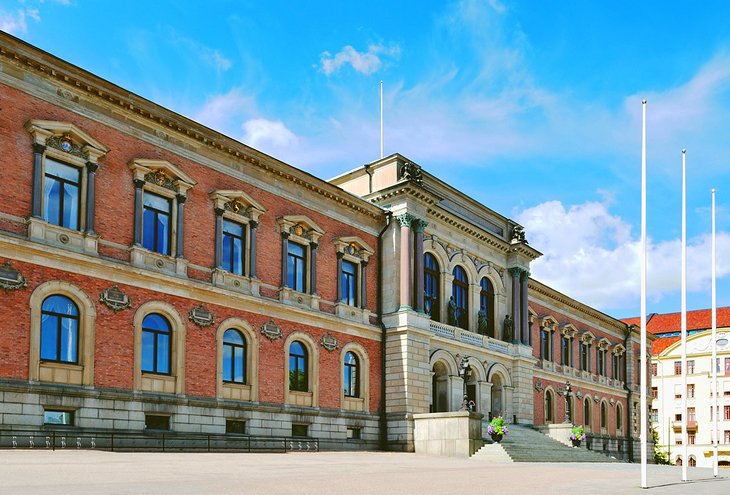 A stroll around the old Uppsala University (Uppsala universitet) immerses you in the world of Swedish academics. Between 1879 and 1886, the so-called "new" university buildings were built in opulent Roman-Renaissance style.
The majestic entryway leads to the big theater and festival hall, which seats about 1,800 people. The walls are adorned with portraits of monarchs, famous university lecturers, and cultural leaders. The Museum of Evolution, which houses dinosaurs unearthed in China, is a must-see.
Make a point of visiting the University Library (Carolina Rediviva), Sweden's largest, with over 5,000,000 volumes and 30,000 manuscripts. The world-famous Codex Argenteus (Silver Bible), most likely originating from the 6th century, is the library's finest prize and is on permanent display. Tours of the university can be arranged.
Address: Biskopsgatan 375105, Uppsala
4. Visit the Uppsala Castle
(Things to Do in Uppsala 04)
Uppsala Castle (Uppsala slott) is the official house of the County Governor and has a long and illustrious history. Here, many of the events that shaped Sweden occurred. In what became known as the Sture killings, a crazed & paranoid King Eric XIV ordered the assassination of a group of noblemen in 1567.
The unexpected abdication of Queen Kristina, depicted by Greta Garbo in the Hollywood film of the same name (but anglicized to Queen Christina), was revealed in the Rikshallen in 1654. (Hall of State).
The Uppsala Konstmuseum (Art Museum) has magnificent art displays inside, while the battlements offer beautiful views of Uppsala and the surrounding countryside. Outside, you may wander along the trails and enjoy the Botanical Gardens, which are located just across from the castle.
Address: Slottet, 752 37 Uppsala
Official site: www.uppsalaslott.com/en/index.asp
5. Visit the Old Vikings at Gamla Uppsala
(Things to Do in Uppsala 05)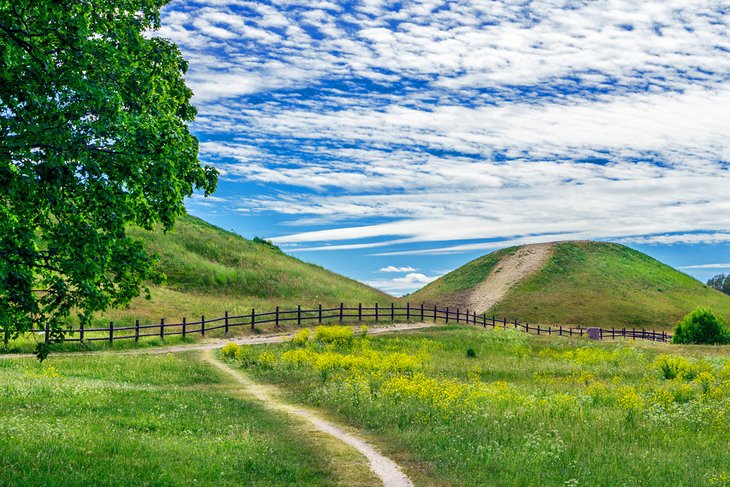 Gamla Uppsala (Old Uppsala) is about four kilometers north of Uppsala, where the Vikings' homeland awaits. More than 300 burial mounds dot the countryside, marking the final resting place of Viking Kings, Queens, and heroes. Gamla Uppsala finally had a cathedral on the location where the ancient church (Gamla Uppsala Kyrka) currently stands when Christianity took control in the 12th century.
Legends abound, and a visit to the Gamla Uppsala Museum (Riksantikvarieämbetet Gamla) is a necessity before continuing your journey. The four-kilometer bus ride, or six-kilometer "Pilgrim's Walk," from the cathedral (Domkyrka), is definitely worth the effort if you're interested in history and archaeology.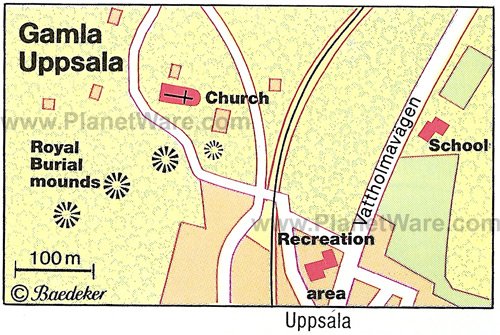 6. Gamla Uppsala Museum
(Things to Do in Uppsala 06)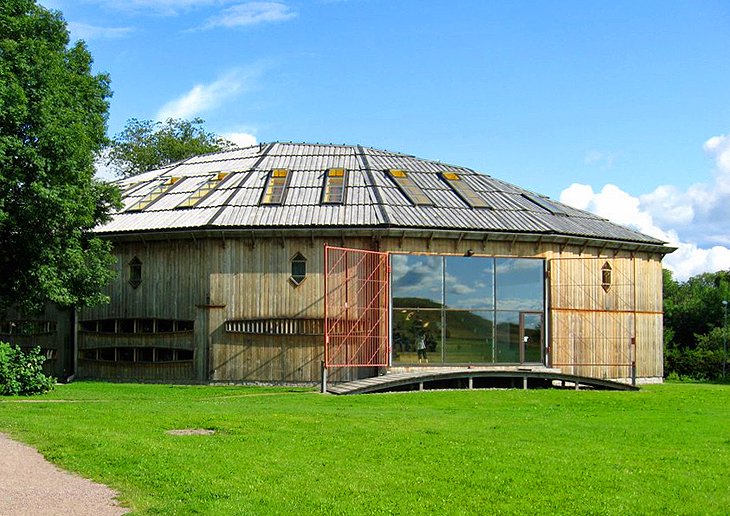 Gamla The Uppsala Museum (Riksantikvarieämbetet Gamla) is a must-see museum with a dome form that reflects the Viking burial mounds dotting the region. Learn about Viking mythology, folklore, and culture while exploring stunning items unearthed at the nearby archaeological site.
The wonderful chronology is an amazing method to grasp this particular period of Nordic history, as well as its eventual extinction with the rise of Christianity in the 12th century. This is a family-friendly sight that is well worth the short bus travel from Uppsala town center. Guided tours in English can be scheduled in advance.
Address: Disavägen 15, 754 40 Uppsala
7. Linnémuseet (Linnaeus Museum)
(Things to Do in Uppsala 07)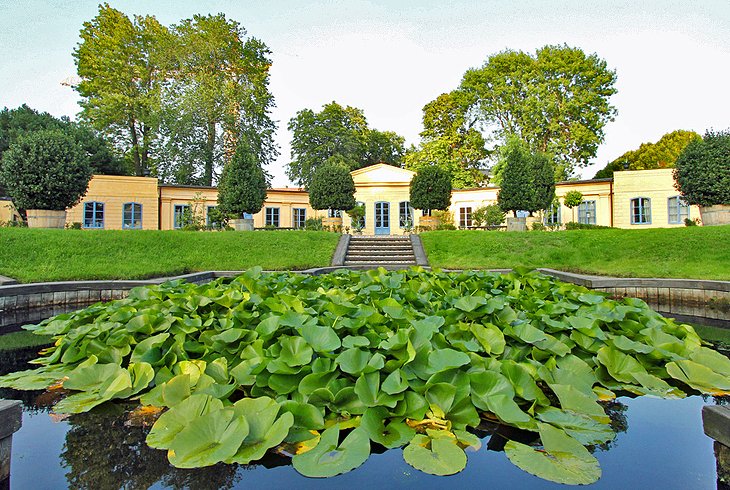 Svartbäcksgatan extends northwest from the Stora Torg to the Linnaeus Garden (Linnéträdgrden), which was created by world-renowned botanist Carl Linnaeus (Carl von Linné). The museum, which was previously his house, is located here.
Exhibitions related to Linnaeus' scientific achievements, as well as personal things, keepsakes, furnishings, and home goods, are shown throughout the house. The Linnaeus Society has been running this shrine to Linnaeus, his life, and the unparalleled period of enlightenment & discovery in which he lived since 1937. Make sure to schedule time to wander among the beautiful grounds.
Address: Svartbäcksgatan 27, 75145, Uppsala
Official site: www.linnaeus.se/en
8. Visit the Holy Trinity Church in the Middle Ages (Helga Trefaldighets Kyrka)
(Things to Do in Uppsala 08)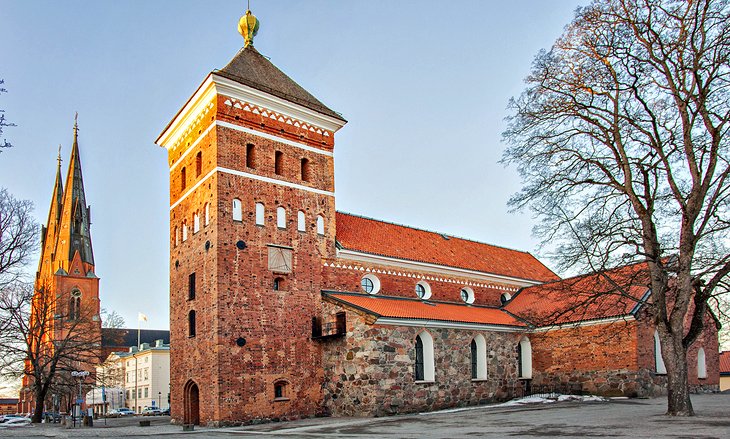 The lovely Holy Trinity Church (Helga Trefaldighets Kyrka), which is just steps away from the cathedral, was built in 1302. Although this is a medieval house of worship, the pulpit, seats, and three stained-glass windows in the chancel were all renovated between 1904 and 1905.
Murals from the Middle Ages, many of which are by the famed medieval painter Albertus Pictor, attract people from all over the world (Albert the Painter). Despite being of German descent, Pictor stayed in Sweden, where his art became well-known and in high demand.
Address: Nathan Söderbloms plan, 753 10 Uppsala
9. Stroll in City Park (Stadsträdgrden)
(Things to Do in Uppsala 09)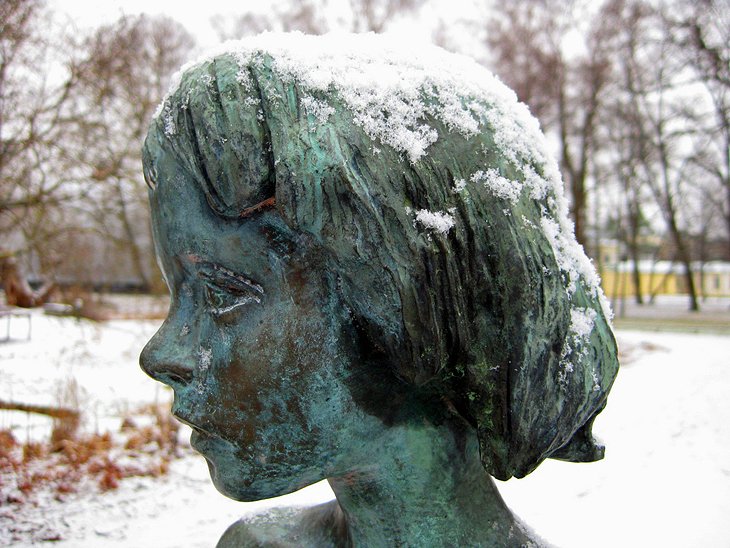 Few countries excel at outdoor life like the Swedes. Indeed, as the magnificent Scandinavian weather chases away the winter's gloom, they like to spend as much time as possible outside. The City Park (Stadsträdgrden) in Uppsala was built in the late 1800s and is a peaceful haven to relax in.
Take a walk in the woods, have a picnic, or stop to observe the gorgeous flowers that bloom throughout the spring and summer, or do all three. The "Island of Bliss" (Lycksalighetens ö) is located in the middle of a lily pond, where tourists can relax and enjoy a reproduction of botanist Carl Linnaeus' work table and chair. A playground, summer café, and open-air theater are among the attractions for families.
10. Museum of Uppland County (Upplandsmuseet)
(Things to Do in Uppsala 10)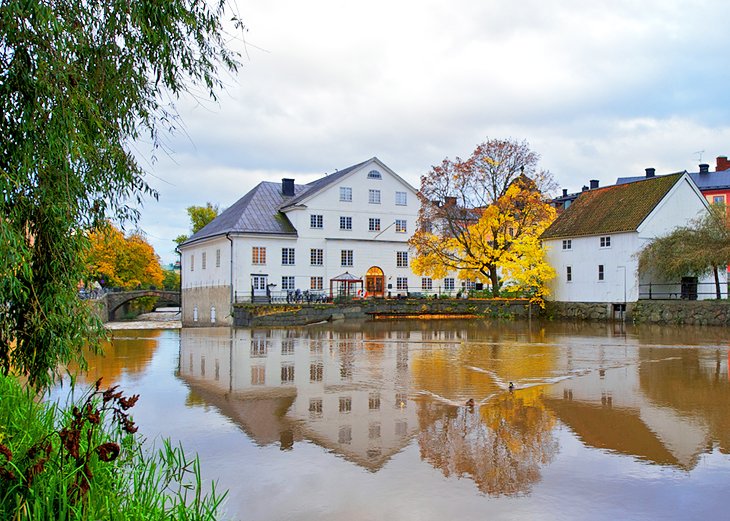 Uppland County Museum (Upplandsmuseet) is housed in a historic mill from the 1760s and gives insight into the culture, craftsmanship, and history that developed this distinctive section of Sweden. The mill was also featured in the 1982 film Fanny and Alexander by Ingmar Bergman.
The museum, which was founded in 1909, exhibits a variety of permanent & temporary exhibitions, including photography, arts and crafts, music, & folklore. A children's zone, café, and gift store are among the amenities.
Address: St. Eriks Torg 10, 75310, Uppsala
Official site: www.upplandsmuseet.se/in-other-languages/information-in-english/
11. House of Bror Hjorth
(Things to Do in Uppsala 11)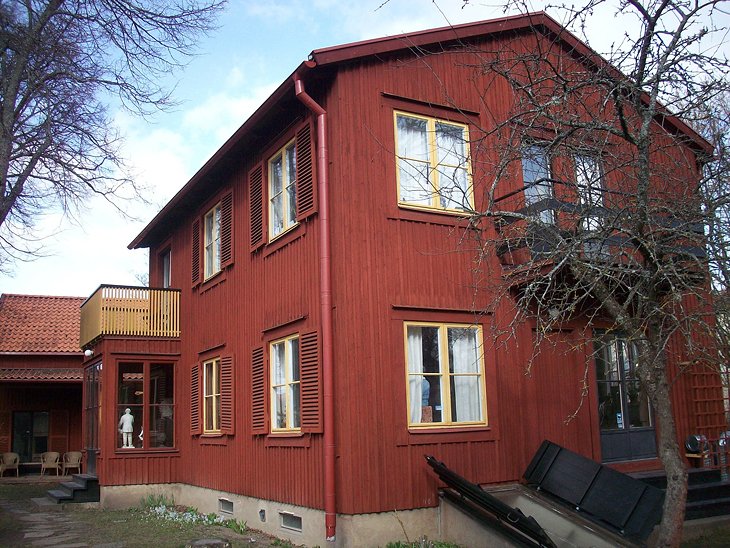 In this lovely museum, the quirky, colorful, and completely original works of modernist sculptor and painter Bror Hjorth (1894-1968) stand out. The museum, first opened to the public in 1978, is Hjorth's old house and studio, where he spent his final decades.
The sculptures, paintings, drawings, and sketches on display here are the most comprehensive collection of his work and represent his strong folk art background. In a new wing, temporary exhibitions are on show. You may get a coffee in the cafe and relax in the grounds after seeing the artwork.
If you like his work, go to Näckens polska, a six-meter-high monument outside Uppsala Central Station that depicts a young couple dancing among flowers while Näcken plays his violin.
Address: Norbyvägen 26, 752 39 Uppsala
Official site: https://brorhjorthshus.se/en/
12. Visit Sigtuna for a Day
(Things to Do in Uppsala 12)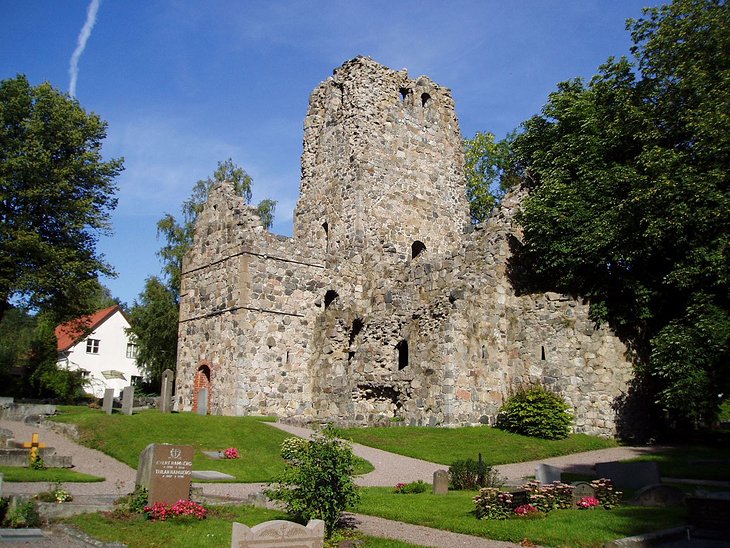 The picturesque town of Sigtuna, located on the shores of Lake Mälaren in Uppland, approximately a 30-minute drive from Uppsala, offers a picture-postcard view of a typical Swedish village. Rune stones and the ruins of ancient churches may be found all across Sigtuna, which is Sweden's oldest surviving town.
Stora Gatan's boutiques and artisan stores, strolling along the Sigtuna Boardwalk, and seeing historic Viking sites and the remnants of St. Olaf's Church are all popular activities.
Where to Stay for Sightseeing in Uppsala
The ideal spot to stay in Uppsala is in the city center, where the biggest attractions are all within walking distance of each other. The majority of hotels in Sweden are in the mid-range pricing category.
The boutique Grand Hotell Hörnan, which overlooks the Fyris River, is a terrific choice. Only a seven-minute walk from the cathedral, this delightful family-run hotel offers contemporary guest rooms in an exquisite, historic structure.
The contemporary Radisson Blu Hotel Uppsala features a fitness center and sauna and is located across from Uppsala Central railway station, a 15-minute walk from the cathedral. The rooms are well-appointed and roomy.
Best Western Hotel Svava, which is also close Uppsala Central Station, is a little more cheap and traditional in design. All of these hotels provide complimentary breakfast.
CityStay Uppsala offers affordable prices in a beautiful location only steps from the cathedral and castle. Private rooms and dorm-style accommodations are available at the hotel.